2023 Active Commute Challenge - Is Now Over!
Hey Thunder Bay and District, the Active Commute Challenge (ACC) has wrapped up! The 2023 Challenge was a huge success that saw us travel a total of 22,281km for the month of June! By switching out our vehicles we also reduced 4,712kg of greenhouse gas emissions! Both those totals also beat our totals from last year – way to go everyone! We hope many of you will continue to actively commute to work even after this challenge has ended.
We're sad the ACC is over, but we look forward to seeing you join our other challenges throughout the year! Check out this page for upcoming challenges!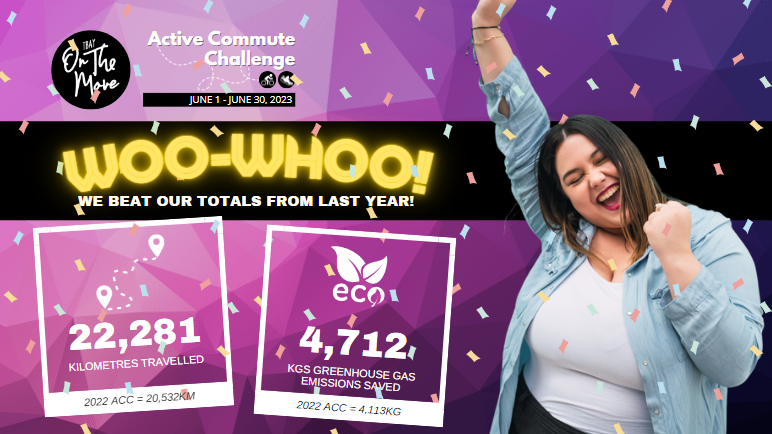 Active Commute Challenge Workplace Champion Webinar
The Active Commute Challenge (ACC) is back for June 2023! Workplace champions help spread the word for the ACC and are vital to recruit and motivate team members! If you're interested in becoming a workplace champion, then you're invited to attend our free webinar on May 25 @ 10:30-11:30am.
By attending this free webinar, you'll learn:
the benefits of actively commuting to work and the role of the workplace
the role of the workplace champion and resources and swag that are provided
what local active commuters have to say about their experiences
You'll also hear from our keynote speaker, Sawyer Jonker. Sawyer is a graduate student from University of Waterloo who is an active transportation enthusiast and has also lived in Thunder Bay. He will discuss the benefits of actively commuting and why and how workplaces should support active transportation.
To register, visit: SurveyMonkey.com/r/TbayACC

Active Commute Challenge Launch Event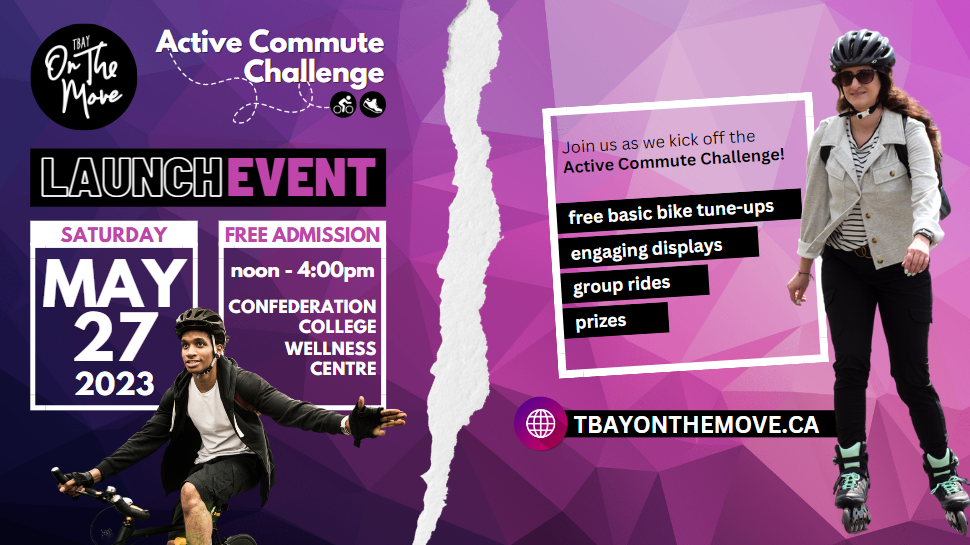 Join us at the Active Commute Challenge Launch Event on Saturday, May 27, 2023 from noon-4:00pm at the Confederation College Wellness Centre.
This free event will have: 
free basic bike tune-ups to get your bike ready for the ACC
speakers
engaging displays
group rides on the surrounding paths
prizes
It's going to be a blast! See you there!